This post may contain affiliate links for products I mention. If you click a link and buy something I may receive some compensation. This does not change the price you would pay.
You've found an air fryer recipe that looks delicious, but how do you know if it will work in the air fryer brand and model that you own? Here's help!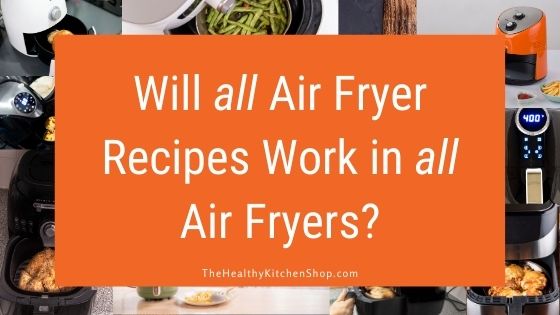 "I just got a new ( fill in the blank ) brand air fryer, and I'm wondering if the ( fill in any other brand ) airfryer recipes will work in my machine?"
We get this question a lot here at The Healthy Kitchen Shop, and I've seen it numerous other places around the web. The answer will usually be yes, what works in one air fryer will also work in another. There are, however, some exceptions, and hopefully the information below will help clarify.
Make Sure You're Comparing Apples to Apples
First, let's identify exactly what we're talking about when we say "air fryer". The most common, or standard models are those shaped like an egg, such as the Philips, GoWISE, and Black & Decker brands:
Very close to those is the Big Boss which is round but still works basically the same way. That is, these air fryers all cook using a fan that rapidly circulates hot air within a very contained space.
For the most part, any recipe that will work in one of these air fryers should also work in any of the others. If you own one of the GoWISE models but find an interesting recipe on the Philips website, that's fine.
An exception is the T-fal Actifry. It is also round and cooks by circulating hot air, but unlike any other air fryer (to my knowledge), the Actifry has a "stirring paddle". You can read all about the pros and cons of that stirring paddle in our T-Fal Actifry Review, but what's important here is that it can make a difference with some airfryer recipes.
The main difference will involve delicate foods or foods with delicate coatings. Thin fish fillets with a very light breading can fall apart if you turn them, but in most air fryers there is no need for turning. The same is true for homemade potato tots or fish cakes or other foods that are quite fragile when raw. The Actifry isn't going to work well for such recipes because foods will be torn up by the stirring paddle before they can cook.
Other exceptions include any air fryer that has some one-of-a-kind feature, or an appliance that is vastly different than the standard egg-shaped models. For example, the Breville BOV900BSS The Smart Oven Air is not an air fryer. It's a convection oven with an "air fry" setting. It works on similar principles, but the different design and very large interior capacity may produce drastically different results.
Two other multi-function appliances that are often advertised as air fryers are:
My suggestion is that if you have the Breville, Emeril, Duo Crisp, or some other non-standard air fryer, start with recipes made for your appliance. Then do a little experimenting. With other recipes you may need to alter cooking times or temperatures, but through trial and error you can learn how to adapt standard airfryer recipes to your cooker.
You might also search online for social media groups or forums that consist of people who own your appliance. These folks can be most helpful because they speak from personal experience with the exact machine that you have.
Cooking Times in Airfryer Recipes
Even if you're cooking a Philips recipe in a Philips air fryer, there is still no guarantee about exact timing. That's because there are always variables.
For instance, a steak straight from the fridge won't cook as quickly as one that has reached room temperature. But then, what exactly is room temperature? At my house that might be 78 degrees while at your house it might be 68 degrees.
Other variables range from humidity in the air to moisture content in the food. Any time you try a new recipe, always start with the shortest cooking time. Even using that, it's a good idea to pause the fryer and check food about half way through just to make sure it isn't cooking a lot faster than you expected.
If you don't yet own one of these unique appliances, don't let any of the above scare you off. The good air fryers are simple to operate, and even as a beginner you'll be amazed at the results. If you want to learn more, please check out the reviews and other info on our site:
Compare air fryers and see details of top sellers: Air Fryer Comparison Chart
Quick look/overview: Air Fryer Buyer Guide
If you're looking for XXL capacity check out our top picks:

Philips XXL Airfryer Review (Model HD9650/96 TurboStar) – Best on the Market

Cosori Air Fryer Review – Excellent Quality at a Bargain Price
If you found this info helpful please share on Pinterest and spread the word!