This post may contain affiliate links for products I mention. If you click a link and buy something I may receive some compensation. This does not change the price you would pay.
How can you cook healthier without spending hours in the kitchen? Check out this list of the 5 best cookbooks for healthy eating in a hurry!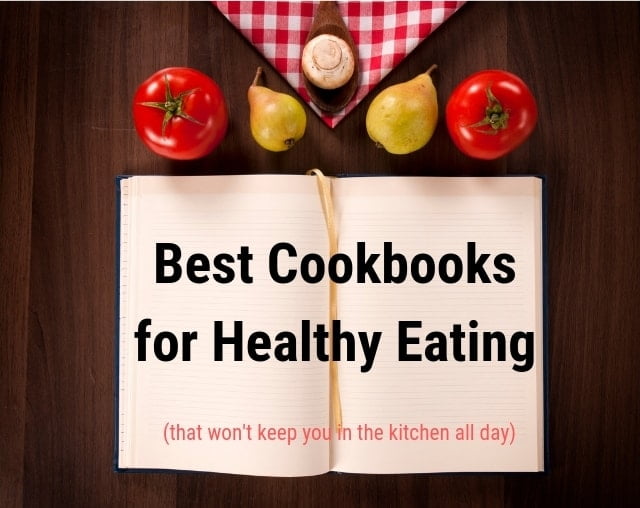 No time to cook? We hear you, and the cookbooks below were selected especially for busy people. They're all about making it good but keeping it simple, with a focus on using fresh, natural ingredients that aren't difficult to find.
You don't have to let your health fall victim to your hectic schedule. In these cookbooks you'll discover recipes, meal plans, and tips that will help you put healthier food on the table even when you're short on time.
Busy Person's Guide to the Best Cookbooks for Healthy Eating
Why This List is the Best List of the Best Cookbooks for Healthy Eating
Have you ever been burned buying cookbooks online? If so you're not alone, and the reason is what you might call cookbook fraud.
Unfortunately, lots of the cookbooks for sale online are pure garbage. For example, you'll find a recipe in an air fryer cookbook that calls for placing all ingredients in a 6 quart stock pot, which is impossible in an air fryer. Or you'll find a slow cooker cookbook full of recipes that will only work in a pressure cooker.
Even worse is that some of these garbage cookbooks have shown up on "best" lists by some reputable websites. Obviously, those sites threw together a quick article without doing their homework.
The list above is not that. It was carefully researched, and that's why it is so short. It includes only cookbooks written by people who actually have credentials – they are chefs, nutritionists, or well-known food bloggers who have an established reputation for quality work.
There is no guarantee that you will love everyone of the cookbooks in the above list. That may depend in individual tastes, cooking styles and other personal preferences. However, you can at least be assured that these books are not junk. They contain quality recipes developed and tested by real cooks.
The hardcover or paperback versions of the above books may cost a little more than the junk that's on the market, but then, you get what you pay for. If you want to save money, check out the Kindle versions. You don't have to own a Kindle to read them, so they're a good economical option for everyone!
You may also like: